This article is a sequel to the previous post on "Novel Coronavirus (2019-nCoV) and the Global Supply Chain"
Since the covid-19 virus outbreak in Wuhan, China since end of 2019, many articles have been written on its impact on the global supply chain highlighting the "pain" of having China, the world factory becoming unable to manufacture for the global demand in consumer goods including the surge in demand for personal protective equipment for healthcare professionals. The combined effect of China factories shutting down due to the new virus and the exploding demand of domestic consumption of PPE (e.g., face masks) and personal hygiene items create a global shortage and hence a price hike of all the items.
Quite sufficient was discussed on the first layer or short-term impact on the supply chain, I want to share the "derived" or the second layer impact on the global supply chain.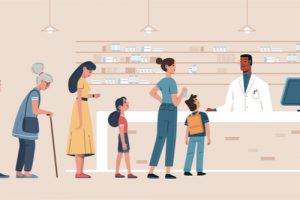 While I am writing this blog in Hong Kong, we have 84 infected cases in a population of close to 8 million. Daily life is very different now. Home office, no school, closing most of the border, minimizing human encounter. The scenes of huge flocks of elderlies in Hong Kong queuing for hours to buy or to collect free face masks and yet still so many of them could not get any face masks at the end has touched and hurt the hearts of many in Hong Kong. Quite a several private companies and individuals have determined to beat the shortage of face masks under the circumstance that Hong Kong has always 100% relied on import of face masks. There is NO local production at all. Acknowledging the lack of foresight and competence of the Hong Kong government to mitigate the risk of face mask shortage, those private companies and individuals have decided to manufacture face masks in Hong Kong to satisfy the need of the 8 million population with priority to elderly, health care personnel, public janitors, patients, all those exposing to higher risk of infection. Just a few days ago, a team of three young men started the first production line of face masks within 14 days from having the idea! They had to source the manufacturing machine from India, raw materials of face masks globally, looked for food-grade factory space, looked for private funding, all done, and arrived in 14 days with face masks manufactured. These three young men were just three individuals with zero experience in making anything. They didn't come from wealthy families. They had the determination and confidence. A guy disclosed that his target was to make everything happen in 10 days, but it took 14 days instead.
The real-life example above has reminded maximum efficiency driven by a crisis. So much methodologies, articles, tools, professional accreditations have been developed to promote and implement LEAN manufacturing or supply chain BUT would a crisis "trump" all of the theories and tools to make LEAN/Agile supply chain happen?
By Linda Lau